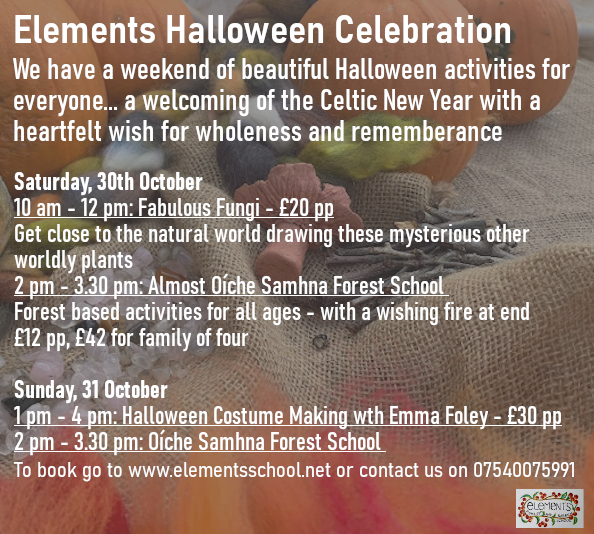 Sign up for the following activities:
Fabulous Fungi Drawing with Gabriel Knight
We will be making bread, telling stories, wandering through the wood and learning about the beautiful time of the year.
Costume Making with Emma Foley
Pass between worlds
The shadows are getting longer and deeper. The new cycle is ready to begin. How do you wish to step out of the past and into the next year? Or, in other words…
It's Halloween, what are you going as?
On October 31st, come into the dusk of Samhain in this rewarding workshop using natural traditional materials and methods to make your choice of a beautiful mask, wreath, or charm.
Your safety may depend on it!
Our handwork on the day will be accompanied by a constructive, and exciting exploration of ideas relating to costume, disguise, tradition, shadow-self, story, spirit-appeasement, folk art, and a look at the cultural balance between the profane and the sacred.
You will leave prepared for whatever comes at you on Halloween night.
Well, hopefully…..
Workshop from 1pm to 4pm.
There will be a opportunity to relax post workshop for 30 to 40 minutes around the fire after we finish work.
There will be a short break from 2:20 to 2:40. Seasonal refreshments will be provided. 
All required tools and materials will be provided for you but please feel free to bring along anything you would like to use.
[Provided: Mixed fabrics, hessian, wool, leather, felt, crystal, ribbon, fruitwoods, shells, nuts, husks, wire, twine, dried herbs and flowers]
Please notify me of any allergies before the event.
Looking forward to welcoming you.